The purpose of The Moon Society is to conduct educational, scientific, legal, and financial activities related to exploration and settlement of the Moon, outer space, and other celestial bodies.


People from all walks of life find themselves fascinated with space exploration. They want to see humankind expand to a civilization that includes more than one planet. Our own Moon is the natural place to start, and this organization is centered on promoting and learning about the efforts that will make that a reality.


The Phoenix chapter has been around since late 2007 and has about a dozen active members. Our main focus has been public outreach at events like science fiction conventions and science related events (Apollo anniversaries, etc.).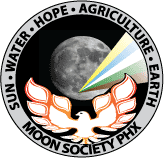 Meetings

The Moon Society of Phoenix (MSP) holds monthly meetings on the third Saturday of the month in conjunction with the local chapter of the National Space Society (NSS). Meetings were alliterating between the MSP venue and the NSS meeting location in Mesa. We had been meeting at the Denny's Restaurant in Tempe but last December they went under new management. They now require a minimum of 15 people or $150 total bill to book the rear room. I think the most people we have had is around ten. So it is unlikely we will meet there in the near term.

Meanwhile we will attempt to continue use of the NSS meeting location which is the Humanist Community Center at 627 W. 8th St in Mesa. That meeting time is 10 am.

We are saddened to learn of the sudden passing of Dr. Dave Fischer, who was VP of the Phoenix NSS chapter and instrumental in its recent revival. This underscores the need for more members (of both groups) to get involved in the organization so we can continue our efforts to get the word out about our future in space.

The next meeting will be February 16 featuring a topic to be determined later. Tentatively folks should plan on it being at 10 am at the Humanist Center. More details will follow in an email to members. Note that acting chapter president, Mike Mackowski, will be on business travel and unavailable to attend, so please suggest some content.

For more info, contact our past president,
Craig Porter
, or the acting president, Mike Mackowski at:


Activities and Projects

We are an active group, and regularly visit local conventions, and are currently working on several real-world projects.
We have constructed a
telepresence kit
, that we take to cons for demonstration races.

Additionally, we are building our
Tranquility Community College
area, which will be a part of this website with various presentations and related downloadable content.